Contact with this plant in any means, whether it be ingestion, touch or otherwise, will cause severe burning and itching of the affected area. This burning and itching will continue, growing worse over several hours until one might be immobilized with pain and discomfort.
Description
Edit
A wiry looking thin leafed bush with tiny yellow flowers. It tends to grow in small groups of itself in isolated areas.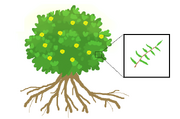 This plant is found in forests and meadows in any season, except winter.
Treatment
Edit
Lavage of the affected area with copious amounts of water. Numbing mint may also be used to apply to the area to cause a soothing affect.