Uses
Leaves are commonly used for bandages because of a clear liquid inside the leaves that acts as a weak antiseptic.  The liquid inside can also be squeezed on a wound to help clean it out. 
Description
Small, perhaps 3 inch tall, yellow grassy plant with long, slightly elastic leaves and stems.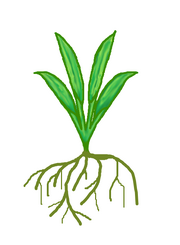 Found
This plant is found in forests and meadows during the spring and summer seasons.
Related